Welcome to APNNA!
At APNNA, our primary goal is to provide comprehensive evaluation and specialized care for children with neurological conditions. Among our most important functions: to share information about specific disorders with our patients' families, to provide guidance and counseling, and to be available to our patients and families when they need us.
Center for Rare Childhood Disorders
Dr. Narayanan serves as Medical Director of TGen's Center for Rare Childhood Disorders (www.c4rcd.org). The primary goal of this center is to help in the diagnosis and management of children with rare (neurological) disorders by application of the latest in genomic and genetic technologies.
Our New Office!
APNNA welcomes you to our new office! On August 1, 2013, we will be seeing patients at our new location, 3330 N 2nd St. Suite 402, in the Osborn Medical Plaza. Please see the Locations tab for more information. We will have new office phone and fax numbers as well, so please make sure to use the updated numbers on August 1!
Patients
All current and potential patients should check out the tabbed information sections contained on this website. To find out more information, please send us an email at info@azpediatricneurology.com or call us at 602-406-6380.


Mailing and contact information

Mail:
APNNA
PO Box 39385
Phoenix, AZ 85069

Email:
info@azpediatricneurology.com

Phone:
602-687-8555

Fax:
602-406-4067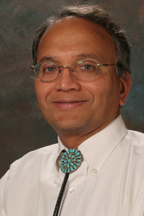 Vinodh Narayanan, MD
Dr. Narayanan obtained his BS in Physics in 1972 from Washington University in St. Louis, Missouri. He completed graduate studies in mathematical physics at Princeton University, where he received his MA in Physics in 1976. He received his MD from Louisiana State University Medical School, New Orleans, Louisiana, in 1981, and completed his internship and residency in pediatrics at the Johns Hopkins Hospitals, Baltimore, Maryland. Between 1983 and 1986, he served as resident in Neurology and Child Neurology at Washington University, St. Louis, Missouri (Barnes Hospital and St. Louis Children's Hospital).
After completing his residency, Dr. Narayanan returned to the Johns Hopkins Medical Institutions as a research fellow and faculty member, working in the laboratory of Dr. Gihan Tennekoon, studying the expression and regulation of the peripheral myelin P2 protein gene. He joined the Child Neurology division at the Children's Hospital of Pittsburgh in 1990, where he remained until 2003 as Associate Professor of Pediatrics and Neurology. In 2003, Dr. Narayanan moved to Phoenix as a member of the Child Neurology division at Barrow Neurological Institute.
Dr. Narayanan is certified by the American Board of Pediatrics and the American Board of Psychiatry and Neurology (with special competence in Child Neurology). He received the Young Investigator Award from the Child Neurology Society in 1987. He is Clinical Professor of Pediatrics and Neurology at the University of Arizona College of Medicine, and Adjunct Professor in the School of Life Sciences, Arizona State University, Tempe AZ. Dr. Narayanan serves as a member of the Executive Board of the Child Neurology Society and as the Medical Director of TGen's Center for Rare Childhood Disorders.
Dr. Narayanan has a special interest in the genetic basis of neurological disorders. His research interests include the neurobiology of genetic disorders. Current projects deal with Rett syndrome, Tuberous Sclerosis Complex (TSC), Neurofibromatosis 1 (NF1), Neurofibromatosis 2 (NF2), hypothalamic hamartoma, and other pediatric neurological disorders. He is the director of the Neurofibromatosis Planning Clinic and the Tuberous Sclerosis Clinic at CRS (Children's Rehabilitative Services), and is the site Principal Investigator in Clinical Trials of everolimus in SEGAs and AMLs linked to TSC.
Common Conditions
Here are some of the common conditons that we evaluate and treat, however we evaluate and treat all problems in the field of Child Neurology. This is not an all-inclusive list, please send us an email at info@azpediatricneurology.com for more information. Please click the button to expand the drop-down list.
Expand/Collapse
Specific Neurogenetic Disorders
Some information about specific neurogenetic disorders
Expand/Collapse
Clinical Trials
Below you will find information with regards to our current clinical trials. Information about clinical trials can be found at www.clinicaltrials.gov
Expand/Collapse
Frequently Asked Questions (FAQs)
Below you will find the answers to some FAQs. If you have any questions that are not addressed here, please feel free to send us an email at info@azpediatricneurology.com or call us at 602-406-6380.
Do I need a referral to visit your office?
We do not require a referral, although your HMO or insurance plan may. You may call our office to schedule an appointment with a physician. At that time, we can help you determine if you need a referral, and guide you through this process.
Do you provide psychiatric evaluations?
NO, we do not provide psychiatric evaluation or treatment. Conditions such as depression, mood disorders, anxiety disorder, obsessive compulsive disorder, eating disorder, drug addiction, and other psychiatric disorders are best treated by a psychiatrist. You primary care physician might be able to refer you to such an expert if needed.
How long will the appointments last?
New patient appointments typically last about 45 minutes. Follow-up appointments typically last 15-20 minutes.
What should I bring to my first appointment?
Please refer to the checklist on the Patients tab for more information. At the very least please bring:
-Completed new patient information form (Demographic and History Form)
-Current Insurance Card(s)
-Referral authorization number or form (if required by your insurance plan)
-Any pertinent medical records from your primary care physician or other specialists, including copies of EEG reports, and MRIs, CTs (preferably on a CD)
-Cash or check for copay. We are currently working on setting up our credit card processing system.
How can I renew my prescription?
Prescriptions are usually renewed at the time of your child's office visit. If medication is required prior to a scheduled follow-up visit, please call the office at 602-406-6380.
Insurance Information
Please bring your most current insurance cards to every appointment. If your insurance plan requires a referral, you must obtain this referral from your primary care physician/pediatrician before your appointment.
We will file insurance claims for you, however copays, coinsurance amounts, and deductibles are due in full at the time of the appointment.
Insurance Plans Accepted
-AETNA
-APIPA (AHCCCS)
-Arizona Foundation for Medical Care
-Blue Cross/Blue Shield of Arizona
-CIGNA
-HealthNet
-Humana
-MEDICARE
-Mercy Care Plan (AHCCCS)
-Phoenix Health Plan (AHCCCS)
-TRICARE/TriWest
-United Health Care
Pending Agreements
-Care 1st (AHCCCS)
-Multiplan
Office Locations
Our Scottsdale office location is now closed, and our Phoenix office has moved! Please come visit us at our new location! Specific parking instructions for the Phoenix office can also be found in the downloadable document below the map.